"We need a library building, which shall be fire-proof and modern in its conveniences." – President Louis E. Holden
Assuming his post as president, Holden had his work cut out for him. He saw Wooster taking a prominent role in the Christian academic world – and set out to accomplish that end. No university with just a single academic building was comparable to the great eastern universities, and by the time he was officially inducted as president, Holden had already secured a major donor to fund a new library. Henry Clay Frick, the wealthy industrial capitalist, business partner of Andrew Carnegie, and philanthropist, pledged $25,000 towards the construction of a new University Library. Frick, had chosen to donate to the University of Wooster to honor his parents, John Wilson Frick and Elizabeth Overholt, who were both longtime residents of the city. Indeed, much of Frick's extended family were residents of Wooster, where his uncle, John Frick was a successful businessman. Frick it seems, was a model of the representative American business man that Holden hoped Wooster would someday produce.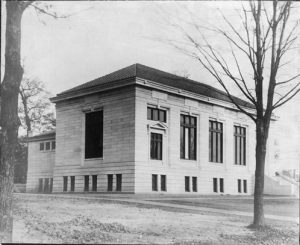 The new University Library was built off the southeast corner of Old Main. George C. Nimmons, an alumnus of the University and a successful partner in a Chicago based architectural firm, was chosen as the architect of the new library. He proposed a Neoclassical design, modeling the building after the great libraries of the National Library of Paris, France, and the Library of Congress in Washington D. C.1 The neoclassical style and similarity to the great state libraries of the United States and France reinforce the idea that the University of Wooster was itself, a great university – equal to the great European and Ivy League universities.
Dedicated on Dec 11, 1900, the University Library in Frick Hall was the first building completed during Holden's tenure as president. With construction set to begin on the chapel across the Quinby Quadrangle, Holden's vision of a new Wooster that fostered the growth of the accomplished Christian businessman was well underway. With a library and chapel both under construction, it seemed that the new buildings would ensure the University's place as an educator equal to the great European and American universities. Furthermore, as both buildings sat equally to the left and right of the Main structure, They seemed to impart the idea that with one came the other, as spirituality and scholarship were of equal importance to the young University and the American businessman.
photograph courtesy of COWSC
"Frick Library," Frick Hall Clippings, B&G, COWSC ↩