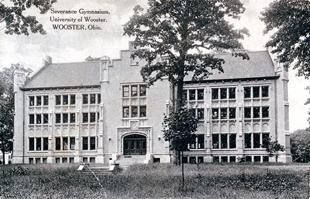 After 56 basketball seasons, and 56 years of athletics in Severance Gymnasium, the building hosted its final basketball game on Feb 20, 1968. Beginning with the 1968-69 school year, the Physical Education Department and Fighting Scots athletic teams moved into their new home in the Armington Physical Education Center. The P.E.C. as it is called, had several new gymnasiums, new locker rooms, and a new pool. Severance Gymnasium no longer in use as an athletic facility was repurposed for use by the studio art department.
Donald MacKenzie, professor of studio art, seized the initiative and drew up plans to renovate Severance into art studios. For 6 weeks during the summer of 1973, MacKenzie made his plans into reality. With the help of seven students, Mackenzie renovated the former gym into art studio classroom space. During the renovation, MacKenzie kept many of the original design features of the building intact, leaving much of the original moldings and decorations unaltered. Although used as art studio space, the main gymnasium of the building still retains its feeling, look, and the aura of being a gym. The gym track balcony floor was re-laid flat, to permit the space to be used as art studios, and the swimming pool was filled with gravel, bricks, and construction waste from the renovation, before being covered with a concrete slab.1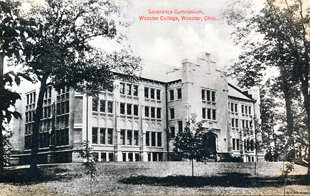 Severance Gymnasium, previously dedicated to the physical body, was converted into a space for the visual arts – the spirit of the mind's body. Instead of a building to stimulate the body, it was converted into a building dedicated to stimulating the senses, emotion, and intellect of the body.  Severance was made into a place for self-expression, creativity, and uniqueness, replicating the story and principles of Independent Study. Above all else, Severance Art situated at the top of the academic campus, reflected the changing face of the College, and the furthering of the ideals of Independent Study, where a person was to make something distinctly their own – a creative work of art.
Photographs courtesy of COWSC
For more on the Severance Art renovation, see: Wendy C. Bowman, "Severance Art Studios," Severance Art papers, B&G, COWSC. ↩